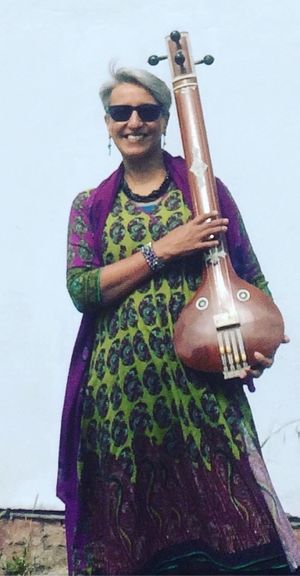 SINGING AND SONGWRITING WORKSHOPS آزادی
Since 2016 Samia has delivered highly successful and popular workshops and performances to women's groups and other community groups including Southall Black Sisters in London,  Angelou Centre in Newcastle and many others in between.
Samia's sessions are always accessible, friendly, fun and empowering.
TO BOOK A SESSION OR DISCUSS OPTIONS FOR YOUR SETTING PLEASE CONTACT SAMIA
'Thank you Samia, you always leave us feeling uplifted'  Firoza Mohmed  |  Humraaz Womens Services Blackburn 
She starts workshops by sharing some of her songs in Urdu and English, carefully translating if necessary. Samia's songs are based on her own experiences of coming from a Pakistani, Muslim background, growing up as an immigrant in the UK, and about her personal journey to freedom  AZAADI - آزادی 
Samia gives participants the skills and tools to begin writing their own words, in their own languages, in a safe and supported atmosphere. The workshop may end by sharing some of the work produced, though nobody has to share anything. Often there will be a lively discussion about the issues and a talk about the future.
'This session filled me with hope power and strength'  Workshop Participant     
'I can honestly say we have never heard such positive feedback about a workshop'  
Pam Saleem | Ashiana Women's Network London
'Your work was very inspiring' 
Erene McCalla |  Asian Women's Resource Centre, Brent, London 
'I hope Samia can bring this powerful message to many Muslim and non-Muslim women affected by domestic abuse and oppression'   
Chair | Bradford Women's Aid  
Written Evaluations from participants in workshops and performances - May 2016 to August 2022 
I was very low but this lifted me up.
I realise the only person who can help me is me and I realise I can do what I need.
You made me feel stronger. 
Given me confidence.
I was surprised I could sing out loud.
I was touched to my soul.
It was so interactive with women of so many backgrounds.
The story was extraordinary.
Heart-touching.
I hope all vulnerable girls and women will see this show.
I felt understood and motivated.
Your CD will help me whenever I am desperate.
I will now express my feelings through writing.
Mesmerizing. I was uplifted to another plane. Spiritual communication.
Bold and brave songs.
I appreciate this outlet to bleed heal and connect.
Brilliant expression though art.
The music and words helped me discover my emotions.
It became therapy.
I listened to your CD all this week and it has helped me lose my depression.
I got confidence and strength and can learn from this how to live in the future.
This gives me the courage to say to those who have oppressed me that 'I am still alive'.
Songs that are so meaningful and easy to sing. Creative. It felt good.
Amazing performance. Excellent discussion. 
I was able to write out something I have been keeping in for a long time.
I am so happy to be part of this session.
My writing made me proud. I hope I can be powerful like her.
Made me feel strong. Your acoustic voice is so powerful and you really champion it for Pakistani women. 
Downloadable Workshops PDF & Images
DOWNLOAD songwriting poster
FINDING A VOICE - YOUNG ARRIVALS IN NORFOLK TELL THEIR STORIES
Finding A Voice, a Heritage Lottery funded project initiated by Samia Malik in 2009 in partnership with Norfolk County Council Arts in Education, The English Language Support Service, Norfolk Records Office and local schools.
In this year long project Samia worked with young arrivals to Norwich, including refugees and asylum seekers, to explore their experiences and heritages through music, text, visual art and dance. 
Here are some of the videos produced by the young participants: