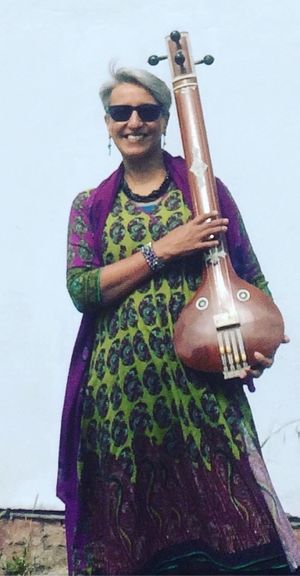 Samia delivers highly successful and popular SINGING and INDIAN MUSIC WORKSHOPS to community groups including women's groups, schools, community choirs, creative groups, music societies, rural touring events and festivals...and counting!
Samia's sessions are always accessible, friendly, fun and empowering!
Rooted in Classical Indian Music and Song, and suitable for complete beginners, Samia starts her accessible and friendly workshops by exploring instruments such as the tanpura and tabla before moving into exploring raag (scale) and taal (rhythm) through our voices. With the emphasis on fun and enjoyment, participants will learn bilingual songs in Urdu and English and gain valuable practical insights into Indian music.
'Samia is an absolute joy to work with. Her spirit lights up the room and her voice is absolutely mesmerising to listen to. I've never seen the participants so engaged in a music workshop, and so open to learning more about the culture. I feel very blessed to know Samia and to have experienced her work on such a personal level.'  
Lauren Turner | Arts and Health Support Worker | Creative Arts East
'This workshop has completely changed how I think about music - these scale exercises will transform my practise' Creative Arts East workshop participant
'I am so glad to be working with Samia on our latest project at The Theatre Royal, The Harmony Collective, a free choir for those seeking sanctuary in Norwich. During the trial phase, Samia exceeded expectations – with a strong focus on wellbeing, the shared experience of singing scales and harmonies, and practising breathing patterns almost became meditative. Asking participants to close their eyes and sing in unison, Samia's approach sought to rekindle something more spiritual, a deeper connection with oneself and those around through the medium of song and voice. It was a very powerful experience! Samia's love of singing and music is clear from her deep knowledge of the art form – her desire to share this knowledge with participants only helped to enrich the experience further.'
Elspeth Hunter | Creative Engagement Project Manager | Norwich Theatre Royal
'Samia's way of working promotes understanding, builds confidence and increases self-esteem. It will help our young people to know each other' 
David Shepperd | Former Senior Advisor on Equalities |  Norfolk County Council
Thank you so much for coming to our school to work with the children. Your calm and affirming manner with the children really helped them to understand your culture and heritage. You worked really inclusively with them thoroughly involving them in the activities that you had planned. Your work was totally appropriate for all ages in our school from Nursery through to Year 2 
Nick Southgate | Headteacher Caister Infant and Nursery School | Caister, Norfolk
Written Evaluations from participants in workshops and performances - May 2016 to August 2023 
A truly beautiful and spiritual experience. All my troubles and worries just faded away
Very, very good, thoroughly enjoyed, need a return visit!
Made you feel very calm and serene. Lovely 
Very calming, lovely lady, heartfelt music
Lovely and peaceful
I have had the best day of my life!  10 year old workshop participant  
It was brilliant - can we do it again? Student in Year 1
download Music workshops & images
FINDING A VOICE - YOUNG ARRIVALS IN NORFOLK TELL THEIR STORIES
Finding A Voice, a Heritage Lottery funded project initiated by Samia Malik in 2009 in partnership with Norfolk County Council Arts in Education, The English Language Support Service, Norfolk Records Office and local schools.
In this year long project Samia worked with young arrivals to Norwich, including refugees and asylum seekers, to explore their experiences and heritages through music, text, visual art and dance. 
Here are some of the videos produced by the young participants: