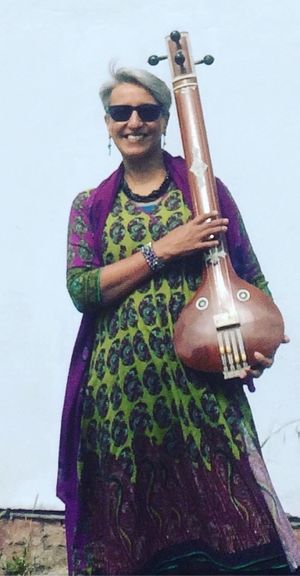 SINGING, SONGWRITING & indian music WORKSHOPS
Samia delivers bespoke singing, songwriting and Indian music workshops sessions for adults and young people in community groups, including women's centres, schools, community choirs, creative groups, music societies, rural touring events, melas,  celebrations and festivals...and counting! Samia also delivers sessions for conferences.
Samia's sessions are always accessible, friendly, fun and empowering! 
'I've never seen the participants so engaged in a music workshop, and so open to learning more about the culture.'   Lauren Turner | Arts and Health Support Worker | Creative Arts East 
There are 2 main workshop options which can be adapted to suit your requirements:
INDIAN MUSIC - using voice to explore raag (scales) and taal (rhythm) - MORE DETAILS HERE
SONGWRITING - learn skills & tools to begin writing your own words, in your own language, in a safe and supported atmosphere - MORE DETAILS HERE
IF YOU WOULD LIKE SAMIA TO PRESENT LIVE MUSIC, TALK OR RUN A SESSION AT YOUR CONFERENCE, PLEASE CONTACT SAMIA TO DISCUSS YOUR REQUIREMENTS
For venues - Scroll down for DOWNLOADABLE workshops posters and hi-res images
DOWNLOADABLE WORKSHOPS PDF & IMAGES