9th July
Hello
Where do YOU draw the line? How do YOU relax? What is work when it is something you love? Can you burn out even if you love your work? And what are the reasons you are creating what you do? 
These are just some of the questions I want to think about in this writing.
Forgive my absence over the past month - my focus HAD to move to the live show, the start of the tour and it's delivery, and the million and one things that happen that need to be dealt with...
So this is not a WEEKLY blog anymore - but you may have noticed that I have changed the billing - the description now reads (ALMOST) EVERY WEEK...! 
Saved by a word!
But is is necessary to step back. And necessary to know when. 
Though DIFFICULT if you are delivering a new tour!
It's self care. Self preservation. Self love.
And this has been so uppermost in my mind over the past weeks. 
I think because for me so much of my life is dedicated to making music, the practise, riaz, raising money, creating the work, putting the tour together, the PR, meetings, SEO, analytics, the artwork, the videos, the website, this blog, the social media postings, the budget, the collaborators, the sound, the mixing, uploading to digital distribution, creating the physical vinyl and CD etc etc etc etc
It is most definitely a passion.
But I often joke it's not WORK, it is PLAY.
Except it often IS work.
Where do YOU draw the line? How do YOU relax? What is work when it is something you love? Can you burn out even if you love your work? And what are the reasons you are creating what you do? 
Lots of questions, and I would love to know what you think.
But I have something important to share today.
I did get quite ill in between the three big show that started my tour. 
A combination of total exhaustion, no rest, moths of working day and night, holding too much, too much going on in my head, the extreme heat...and I got a mixture of violent sudden migraines, visual auras, constant headache and sore throat which led to me losing my voice just as I had to travel to London. It was my most high profile show of the tour, a solo set at The Queen Elizabeth Hall on the Southbank in London, to celebrate Refugee Week with the Southbank Centre and Counterpoints Arts, who are an amazing national organisation who work with refugee and migrant communities. I was thrilled to be asked to play this show and it is no exaggeration to say I have worked for years to get it.
Except I had no voice at all. I could barely speak. I felt terrible in my whole body. Every cell of my being was saying don't do it.
The irony too - singing Songs To HEAL and EMPOWER - while feeling unwell. The audacity of it. 
And the WORST THING?
On the day before the London show, because I was taking huge doses of aspirin to try to control the migraine and sore throat, I got a loud constant thumping and ringing in my ears. 
And it was so oddly familiar.
The saddest thing in this story was that the ringing forcibly reminded of the time when I was 18, when I was in such a bad place in my life that I wanted to die. I had got married the year before, and I could see no way out. I took an overdose of painkillers, over 50 tablets. 
But I woke up.
With that same loud constant thumping and ringing in my ears.
Now, though somehow that memory made me focus. 
Somehow it gave me a context. 
Somehow I think it gave me courage.
THAT'S WHY I DO THIS WORK. TO GIVE VOICE TO THAT STRUGGLE.
But in order to do the show I knew I needed help still.
I asked people to support me: I talked it through with my husband who was away: at his suggestion my lovely daughter came to meet me at Liverpool Street and helped me get to the venue; I told the organisers and my technician that I may need to cancel, or use backing tracks, or just play the material and talk about it. I asked a dear nurse friend about the medication, and had the migraine medicine to hand.
I rested as much as I could in my dressing room. I was KIND KIND KIND to myself.
I got up for my soundcheck having not sung or spoken without pain for days. My family were in the large audience - some of them knew I was unwell.
I began to sing.
Like a Gift is my first song of the set - I call my goddess my devi, the-me-at-my-best-and-most-healed….
And it was like a miracle.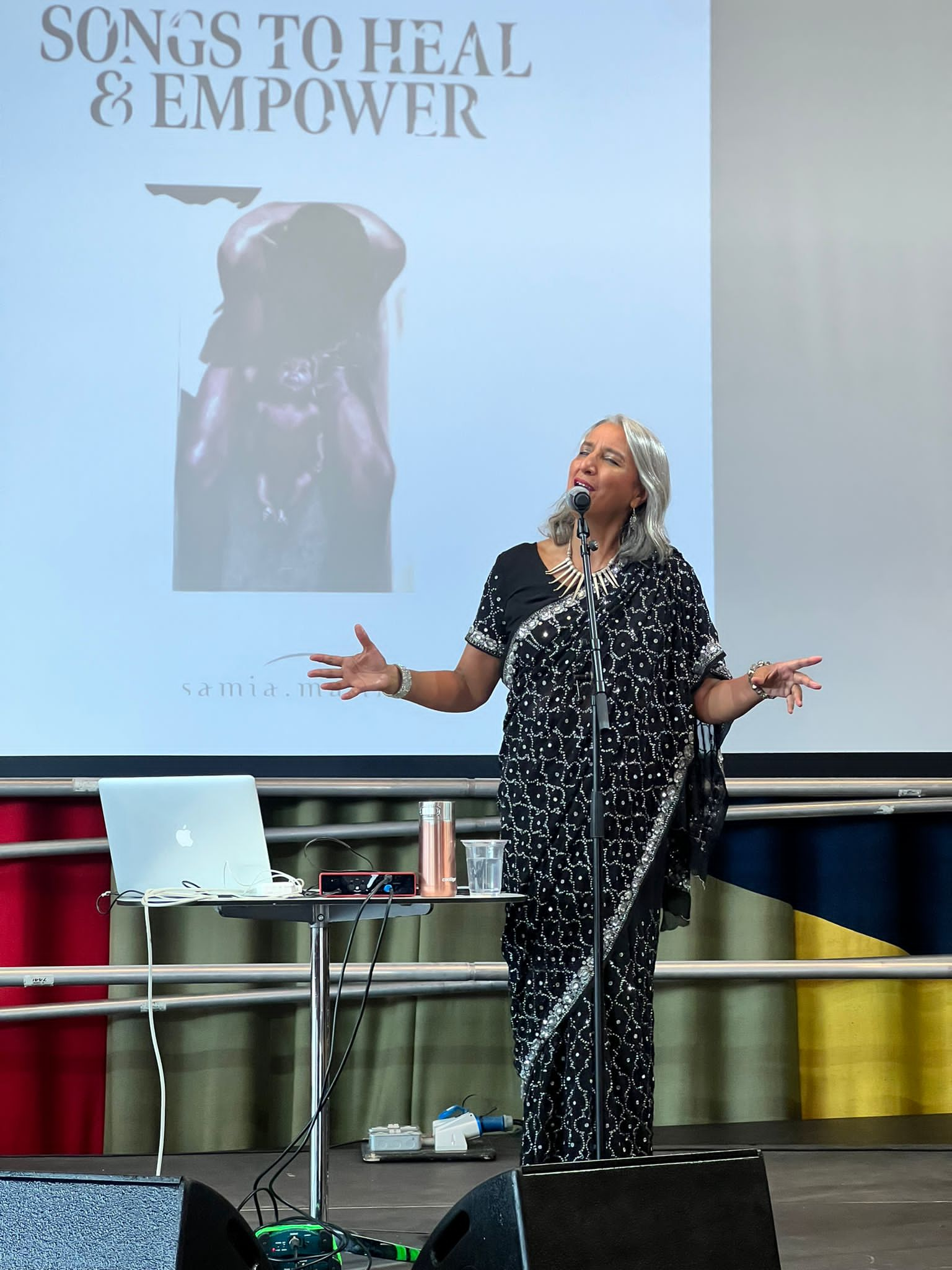 My voice came. It was raw and fragile, but it held for the whole set, and I even managed to enjoy the show. 
The miracle of adrenaline. But it was deeper than that. 
It was something to do with that memory of that loud constant thumping and ringing in my ears. 
I was doing it for HER. For me, at that tender age, the things I had to live through. The desperation.
 However bad I felt NOW, it was not as bad as then.
I was SO proud afterwards, Exhausted yet elated.
The BEST thing? 
My two youngest grandchildren were there, and the elder one, aged 6, was absolutely transfixed. If this is not healing I really don't know what is. 
Healing literally through generations, the trauma released, transformed, explored, not shied away from , not hidden, not denied, but held and loved, understood and soothed. Shared.  Released. Healed. Transformed. 
ART IS INFORMATIVE AND TRANSFORMATIVE. This is almost the only thing I know for sure.
I felt I really had conquered the fear, taken the huge risk, gambled for high stakes. Oddly enough, the next day the sore throat had gone, though I have needed to take over a week to recover properly.
But SHOULD I have done it?
It could have SO EASILY gone wrong.
I could have damaged my voice.
But I suppose it's not the first time I have got up and sung in public when I felt unwell - there have been times in the past too, and I have taken a few long breaks from singing.
But doing it now, in this way, with THIS material and then taking the time I needed to recover, gave me a chance to really focus on that broken hurting needy 18 year old who is still in me. I carry her pain in my body, of course. It is in our bodies that we carry everything. And it is through the release of it that we heal. Through body work. Through meditation. Through tears. Through using my voice. Through sharing my story.
All of these, again and again.
That same loud constant thumping and ringing in my ears took me back to her/me, and how much she/I carried. 
So in the healing days the days after my show in London, I did some focussed healing for her/me.
This never ends, this process. The layers of the onion come off one by one, and we are a little more real, a little more authentic, a little more healed.
To honour this process I would like to share this photo (the day after my wedding) and a related piece of writing - it's from an extended autobiography People Will Talk that I have been working on and off throughout my life.
Perhaps NOW is the time, and THIS is the place, to share it.
Please let me know what you think?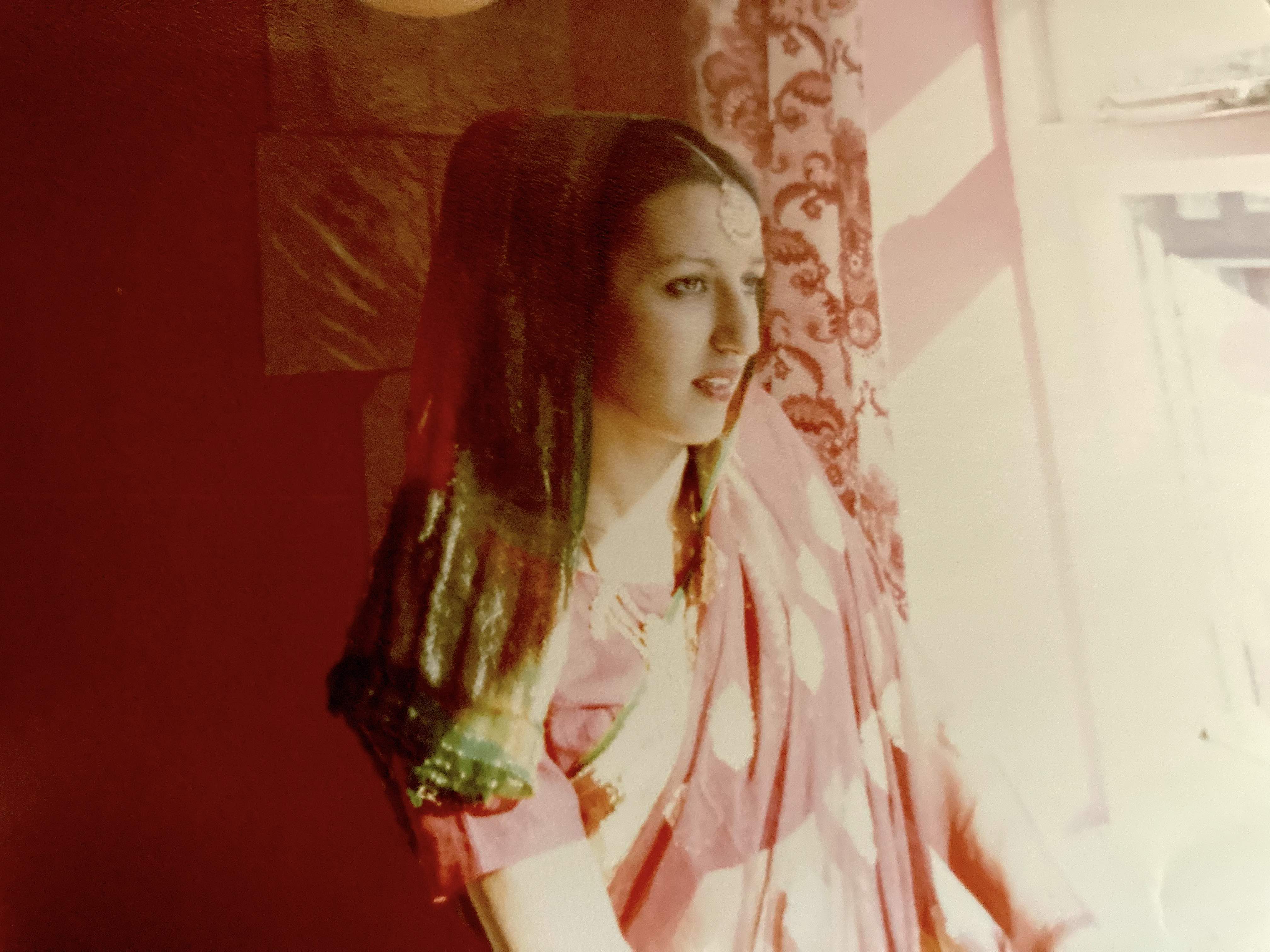 People Will Talk (Extract)
By Samia Malik
PREFACE
Dedicated to the memory of all of those women who didn't make it out alive, who were held down by their mothers while their brothers killed them, or who were burned alive in a dowry death, who were run over, who had their throats cut, who were silenced, who had their voices taken away, and those millions and millions who have lost their power, their lives, their voices, who are hidden behind walls and doors and duputtae (veils) and burkas and words and customs and rituals and traditions.
There is another way.
It is hard to know where to start this story. Did it start the moment we stepped off the aeroplane into the shocking cold of a cold October London night in 1968? Or when my eldest sister, always the quiet, hardworking, model Pakistani Muslim daughter, suddenly announced she wanted to marry, and the boy who came to talk to my parents turned out to be a Sikh? Or was it a year later, when, having stood by his eldest daughter, and having the whole community ostracise him and our family, my father suddenly died of cancer? Did it start earlier as I watched the lizards scurry up and down walls and the fan rotating above my head while listening to my parents arguing in the next room about leaving Pakistan, again, and dreamed of the land my father described in such glowing words, those wonderful streets and schools? Or even earlier, when my father watched my mother playing in the street and decided it was her he wanted to marry? Or in the next few years, while he left Pakistan as a young man to make money in Saudi Arabia, and came back to take her away? Or when my brother was born, the first son after three daughters, to much celebration? And how could I leave out my mothers mother, Baiji, who kept my doll that I left at the airport for twenty years, and finally brought it with her to England, when I saw how she treated my mother, and suddenly so much about my mother began to make sense? Or was it when I met my future husband, having just got back from the freedom of a school trip to the hell that was my life after my father had died, my sisters had left home, and the relationship between my mother and I was...
already I am tangled up. I need to unravel some of these threads. I need to start at the beginning and go to the end. Or perhaps I need to start where the story wants to start...
Chapter 1
One two three. Gulp.
I gag. Better to do it one at a time and swill the tablets down quickly with a little juice. I take a long draught and force the down. Try again.
Four. Gulp.
Five. Gulp.
I can still taste the bitterness of the paracetamol, the sweetness of the orange juice doesn't quite mask it.
Six. Gulp.
Seven. Gulp.
I am lying propped up in my bed in my new house, a mattress on the floor. The pink curtains are pulled back, and the thick net curtains let in just enough light to see the tiny pink flowers on the wallpaper. There are dust motes dancing in the air. As a child, I would have watched them, trying to catch them, but today I am looking at nothing but the glass in one hand, the bottle of tablets in the other.
Oh God! I love him so much. I can't live without his love.
Eight. Gulp.
I'm not strong enough to do what Didi did, to leave. I'm weak, I'm pathetic. I've been told that so often, I know it's true.
Nine. Gulp.
The glass is empty. I lean over to my left and fill it up to the top from the carton. My hands are shaking, and I drop some on the ruzaee, but it doesn't matter. Nothing matters anymore.
Ten. Gulp.
No, it's much better like this. If I leave, people will point their fingers at him, say he couldn't control his wife. This way they know the fault is mine.
Eleven. Gulp.
This time I'll do it right. Last time, I did it too quickly, I didn't take enough, I woke up again. That's how useless I am, I can't do a thing right.
Twelve. Gulp.
I'd been frightened that time, not when I took them, but later when we was talking to me again, when I lay in his arms. I'm so lucky to have him, I'd thought, he loves me so much, he forgives me so much, how could I have been so mad?
Thirteen. Gulp.
Ummi's house is full of medicine, it was easy to find those sleeping tablets. Here, in my new house, where we've only been for a week, all I could find were these paracetamol. I hope they're as good. At least there is a full bottle.
Fourteen. Gulp.
And now, now that I've really faced it, I know I really will do this. There is no other way out for me.
Fifteen. Gulp.
I feel so calm now, so in control of my destiny, just like those women in films who take the honourable way out when the shame and be-izzatti get too much to bear. Honourable. I am acting with honour.
Sixteen. Gulp.
I should have done this eight months ago, before we got married. I could have saved him all the pain and grief he's had to go through in marrying a girl like me.
Seventeen. Gulp.
This way no-one will blame him or his family.
Eighteen. Gulp.
The lives of my brothers and sisters will not be tainted.
Nineteen. Gulp.
Tears are starting to flow, but I don't even wipe them away. Nothing matters. Nothing.
Twenty. Gulp.
I'm such a bad person, I have no right to be alive. I have such terrible thoughts, I have done terrible things. I can't stop lying to him. If it wasn't for my lies, everything would have been all right. He is so good.
Twenty-one. Gulp.
I thought it would be all right when we got married. But it got worse.
Twenty-two. Gulp.
I thought it would get better if we lived alone. But it didn't.
Twenty-three. Gulp.
I thought it would be fine when we bought our own house, but it isn't. He is angry with me about everything. I spend the day cleaning up, instead of doing my schoolwork, and he comes home and rubs his fingers along the top of the tiles. Why didn't you do it properly? he shouts. The next day, I carefully wipe down the tiles and he checks the top of the door. He holds the dust up to my face and says Can't you do anything right?
Twenty-four. Gulp.
Through my tears, I see the glass is empty again. As I move to refill it, I feel my stomach gurgle, and bile rises to my throat. I sit right up, breathing slowly and deeply, swallowing, forcing it down, I feel queer, as if my head is growing, a dizziness, but slowly, as I breathe, it begins to pass. I wipe my tears with the back of my hand. I must drink less liquid with each tablet.
Twenty-five. Gulp.
When he calls me a whore, a prostitute, I know he's right, I don't have good morals like him, I'm soiled and used, like an old rag. And yesterday, for the first time, he hit me.
Twenty-six.
I know he thinks it was for my own good, that he needed to teach me a lesson, that his brother and his uncle do it and it does their wives a lot of good.
Twenty-seven. Gulp.
But I think I'm beyond help. He should never have married me. He's right, I trapped him , I let it all happen, I could have said no.
Twenty-eight. Gulp.
When he goes out in the morning and locks the door from the outside, I feel so trapped. I do have a key, but he and I both know I'm not allowed to use it, that I can only go out if he takes me. He says I can't be trusted.
Twenty-nine. Gulp.
And then, when he came in last night, his face was like thunder. I was waiting by the passage as usual, the dinner was cooked and ready to serve out. He usually kisses me when he comes in, but yesterday he came straight in and hit me across the face, hard. I put up my hand to protect my face and he kicked my legs, and started swearing at me, saying I had ruined his life, taken away all his dignity.
What's happened? I managed to cry. What have I done?
What haven't you done, you whore? He shouted and then slapped me again. I ran into the kitchen but he followed me in, slapping me repeatedly. I dropped down to the floor, with my head in my hands.
You prostitute! You've ruined my life!
Then he stood over me and told me what had happened, punctuating his words with slaps and kicks. He'd taken a student for a driving test, and while he was waiting in the test centre, another man had come in, and had started talking to him. Somehow the name of my school was mentioned and this man said he knew me.
Who was he? I asked. He hit me again.
It doesn't matter who he was! It was the way he looked at me. He was probably one of your old boyfriends, one you forgot to mention to me. He said he knew you. He knew you. Any man can come up to me and say I knew your wife.
He slapped me again.
You've brought me nothing but shame! I can't hold my head up as  man anymore. I used to have respect, I used to have peace of mind. You've made me into a laughing stock!
Thirty. Gulp.
Thirty-one. Gulp.
Thirty-two. Gulp.
He went out then, slamming the door, but didn't forget to lock it. I heard his car pulling away, but I couldn't move. He's right, I thought, I've bought him nothing but pain. I am so bad. Much later, I got up, went upstairs, washed and changed my clothes. I looked at my face in the mirror, there were no bruises. I came back down heated up the dinner, put it on the table, and waited.
Thirty-four. Gulp.
He didn't come home until after eleven. He didn't look at me, sitting in the kitchen, by the plates of cold food. He just went straight up the stairs and into the bedroom. I heard the door closing, his footsteps, the light being switched off. I sat and looked at the food in front of me, but I didn't cry. I can cope with his anger, even him hitting me, but I can't cope with his silence.
Thirty-four. Gulp.
Thirty five. Gulp.
I slept on the sofa. Or rather, I lay on the sofa all night waiting for him to come down to say, why are you sleeping here, you haven't even a ruzaee. But he didn't. And then this morning he finally came down, I hurriedly sat up as I heard his footsteps, I arranged my face, but he didn't look in here, he just went straight out again, locking the door. He never goes out in the morning without giving me a kiss.
Thirty-six. Gulp.
I came up to his still-warm bed, walking though the kitchen and the bathroom, picking up a carton of juice, a glass, the tablets. I knew what I had to do. It's time. There is no other way.
Thirty-seven. Gulp.
Thirty-eight. Gulp.
Thirty-nine. Gulp.
Suddenly, I feel really sick, I can feel all the liquid and the tablets bubbling inside me. This time sitting up straight and breathing do no good, the acid bile rises up into my mouth, I swallow with an effort, I stand up. My legs feel rubbery, I have to hold on to the wall to steady myself. There is a ringing in my ears, I feel as though I am standing in a wind. I edge over to the mirror, gingerly, swallowing repeatedly. I'm surprised to find my face looks the same, just a bit puffy. The ringing in my ears is getting louder every second, it's almost painful.
I must hurry, I think. I must do it quickly and not think so much. I dare not look into my eyes in the mirror. I swallow down the bitter taste. I think, I must get back to it. I carefully lower myself back down on to the mattress and swallow without pause.
Forty. Gulp.
Forty-one. Gulp.
Forty-two. Gulp.
Forty-three. Gulp.
Forty-four. Gulp.
Without warning the sickness rises again, and a coldness sweeps up from my feet through my body. Suddenly I am very afraid.
Oh, God! Oh God! Oh God!
There are nine tablets left. Only nine.
I never want to wake up again. I never want to look at my face in the mirror. I never want Khalid to shout at me again. I never want to be hit again. I never want to be locked up again. I never want to face life again, to be told how bad I am. I know I know I know. I know all that. There's no other way. This is no other way.
Forty-five. Gulp. There's no other way.
Forty-six. Gulp. I have no choice.
Forty-seven. Gulp. I don't deserve to live.
Forty-eight. Gulp. I love him so much.
Forty-nine. Gulp. I'm sorry. I'm sorry.
Fifty. Gulp. I'm sorry.
Fifty-one. Gulp. I'm sorry.
Fifty-two. Gulp. 
Fifty-three. Gulp. 
The tablets are finished. I climb back into the bed, the buzzing in my head now seems to be coming from along way away, and I feel very cold. I pull the ruzaee over me and turn towards the light. These are the last things I ever want to see.
The pink curtains, pulled back.
The net curtains.
The tiny pink flowers on the wallpaper.
A dark veil descends from the ceiling, I close my eyes, feel myself drifting, so cold, so cold…
END OF EXTRACT
Another personal post - but hey, it MY BLOG!
Let me know what you think?
With love X
Samia