12th Feb
Hello!
It's that time of year when we are supposed to be thinking of love. 
For me it has to begin with loving ourselves, because so many of us carry so much negative baggage. How can we truly love someone else if we can't truly love ourselves? 
Yet our society tells us it is wrong to focus on ourselves, especially if we are women, especially if we are Asian women! A double whammy! 
So this week do a daily check in - Is this self loving? A radical daily act of self love! 
I had a very hard week in some ways, but so positive in others. Isn't it funny that we have to hit the lows to reach the highs, yet when we are scrabbling down in the dumps it is SO HARD to remember it will end? 
When will I learn??
At the beginning of the week I felt a bit unwell so perhaps that's why I began to feel overwhelmed: I STILL haven't quite fixed the dates of the tour; the music is going well but I am under a lot of time pressure; the regular postings, the regular planning, creating the writing of the copy, the images, the artwork for the tour, the album…the list seemed like a mountain. 
I had a really helpful session with some creative professionals and someone from the Arts Council Digital Culture Network and I realised I need to find people to help.
SO by next week 
I should have a new BRAND identity! 
I have been talking with an INCREDIBLE artist for the video so am keeping my fingers crossed there. 
AND I have some exciting musical collaborations coming up - especially for one of my new songs Hur Turuf - All Around and, guess what? 
It's a love song. Ah ha!
The Urdu lyrics were written by my mother who died 2 years ago, about my father, who died over 40 years ago. So she, and we, his family have had a lifetime of loss. The lyrics are about longing, about celebrating…here's the opening
Hur Turuf - All Around 
Hur turuf tera julva
Hur turuf too hi too
All around just celebrates you
All around is you, just you
Merai khabon me too
Khayalon me too
Meri hur ik suba ke
Oojalon me too
My dreams are just you
My thoughts are just you
My every morn
Dawns just with you
Urdu words: Imtiaz Tahira Malik
English Translation: Samia Malik
It makes me so sad and yet happy at the same time to write her name. And to share this story.
And here's the thing: in my culture there's a concept called KHUTUM, which literally means ENDING. It refers to the reading of the Koran to bless the soul of the person who has died. It was done regularly by my mother for my father.
Well, this song feels like my version of that tradition. Each time I sing it, I feel the two of them. I sense them, I honour them, I thank them, and I imagine them enjoying this song. I don't know if it does something positive for their souls, but I KNOW it does something positive for mine. 
This is where music may be healing.
They both LOVED Indian and Pakistani films and I got my love of music through what we now term Bollywood.
So for me it feels important to arrange this song in that old Bollywood style, with soaring over-the-top orchestration, violins, drama, the works! Dropping into the simpler melodies of the verses. 
And that's exactly what I will get…so watch this space!
So of course now I must share a picture of them….
and that baby is me!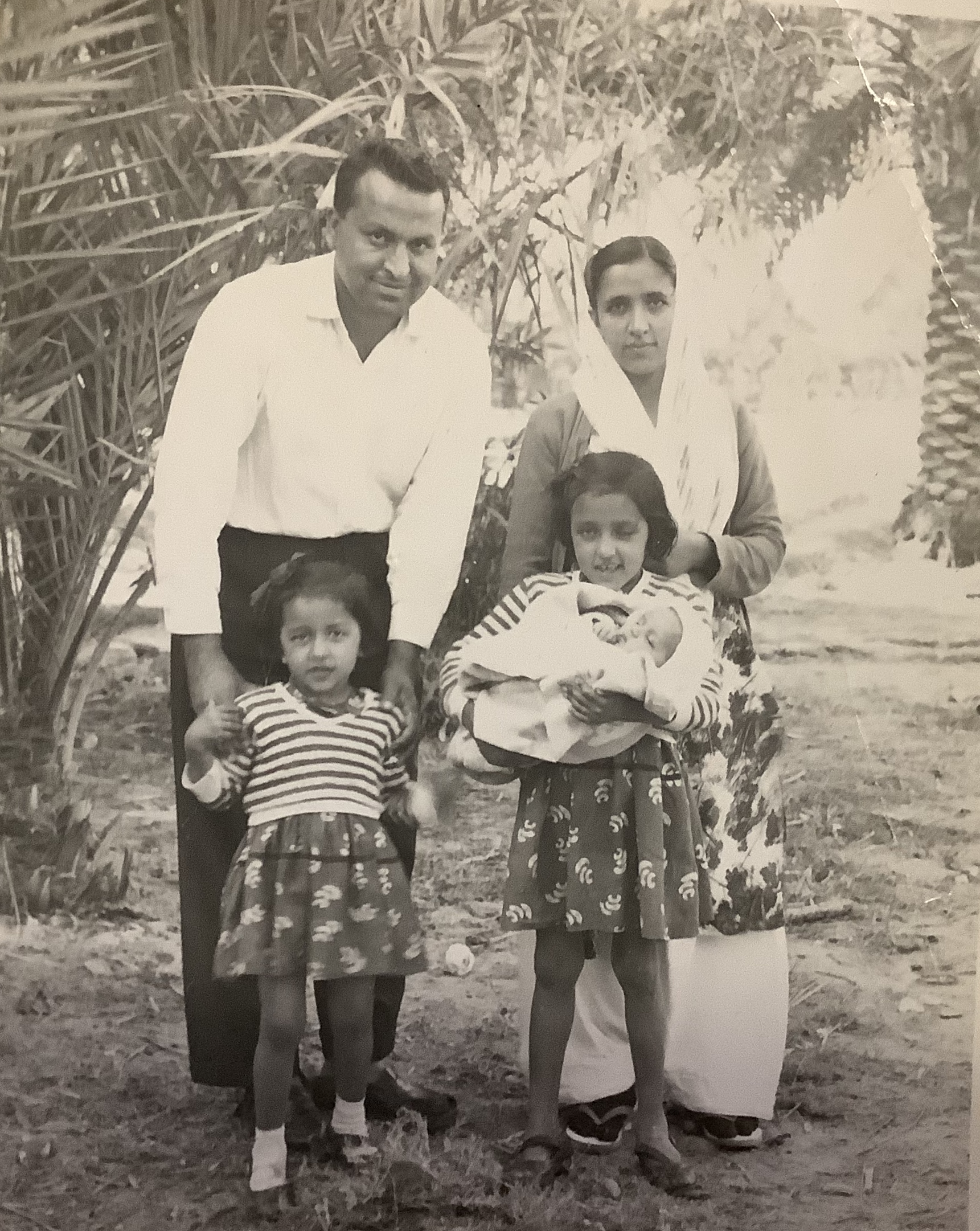 Have a wonderful week
And don't forget
A radical daily act of self love! 
X
STOP PRESS!!! Added on the 14th Feb…
I have JUST realised I can post a video on here…. so here goes a link to a Youtube video just uploaded
Samia 
x