January 15th 2023 
OOOH how can we be halfway through January already?!
How was YOUR week? Be sure to ping me a message below - I do love to know how you virtually are heeheehee...
My week has been super busy.
I made a decision that I would focus on finishing creating my new album 'Songs to Heal and Empower' due to be released in June.
For at least a month I need to really focus to get the tracks finished in terms of compositions ( yup still creating them) recording, rerecording, editing, arranging then mixing and listening listening listening....
I am also working with the wonderful Camilo Tirado, musician and sound god, who is infinitely patient with me and who will help me make the best album I can. Cheers Cam!
Lend me your ears?
I meant to ask - if YOU are up for lending me your ears, so to speak, let me know by private message or below - I am am keen to make a small subgroup of VERY SPECIAL people who will listen and give me critical constructive feedback on the new mixes.
Could that be you? Do let me know!
But focusing on the new stuff means putting aside not just my regular life (sorry Jonathan, sorry friends and fam) but also leaving all the publicity, promotion, admin, meetings, ad planning, social media posting, announcements, planning, budgets, analytics (yes really! My life is SO thrilling!) etc etc that seems to take up so much of my time. Not completely, but less than usual. 
I get people asking me WHAT I DO ALL DAY?
Hollow laughter.
Seriously though I am so excited to share NEW WORK with you. Soon.
BUT HOW DID I GET HERE?  
That's the title and the fundamental question of this blog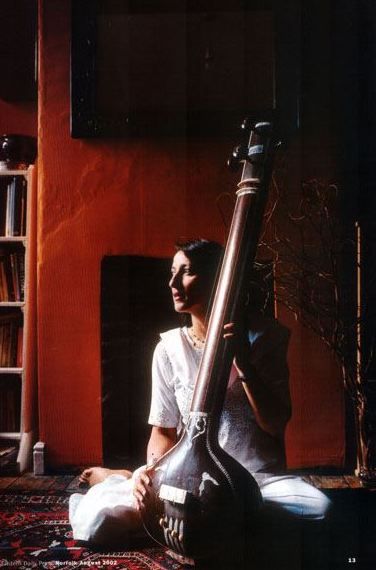 So here's another picture from my archive - a rare photo of my first tanpura that you can hear in the second video Raat Meh - In The Night
I am so excited to share OLD WORK with you too, in the meantime, to set the context.
So to facilitate that remember to tune in to my new Youtube channel this evening to see the next batch of Premieres of my new never seen before lyric videos two songs from
The Colour of The Heart  
watch out too for postings on your social media of choice! 
Garam Masala was the name of the band consisting of the hot spicy mix of 4 band members:
me- lyrics translations compositions tanpura vocals videos
Sianed Jones - violin harmonium vocals
cris cheek - clarinet bass guitar tanpura ektara
Sukhdeep Dhanjal - tabla
Recorded in1998 at Utopia Studios, Norwich, UK
Originally released on the CD 'The Colour of the Heart' in 1998
Rereleased across all digital platforms in January 2023! 
Two of my favourites songs this week - click on the title to get to the right place.
Feel free to subscribe comment and share!
SUNDAY 15th January 2023 
Sent to you with my love! 
HAVE A LOVELY WEEK and I will catch up with you either this evening at 6pm or next Sunday in this blog same time same place! Or even both?! 
Much love  
Samia X