19th March 
Like A Gift - read the story behind the song and hear the in-progress acapella version LIVE!
Hello almost-spring in the UK
Like A Gift 

What is your process for being creative? Do you need to be alone? 

I once heard someone talking about writing as a process where you open yourself up, practise, prepare, get rid of distractions, let go of your ego and fears and wait, wait, wait, wait,
for whatever comes.

It was so familiar! That's often my process, for writing songs, for making artwork…anything creative.

I may meditate or go for a swim. I am almost always alone. I need to listen deeply and wait.
And wait and wait and wait.
Just show up. Again and again and again. 

Often, (actually, mostly), nothing comes. In that case I know not to be frustrated. Sometimes I even manage it! (ha ha)
I mentally or even actually shrug my shoulders and go and do something else. 
At other times it pours and cascades and all I can do is catch as much as I can.

Hold it.

Build it.
So I mention this because today I will share the in-progress performance of 'Like A Gift' from my show at the Norwich Arts Centre for International Women's Day 2022.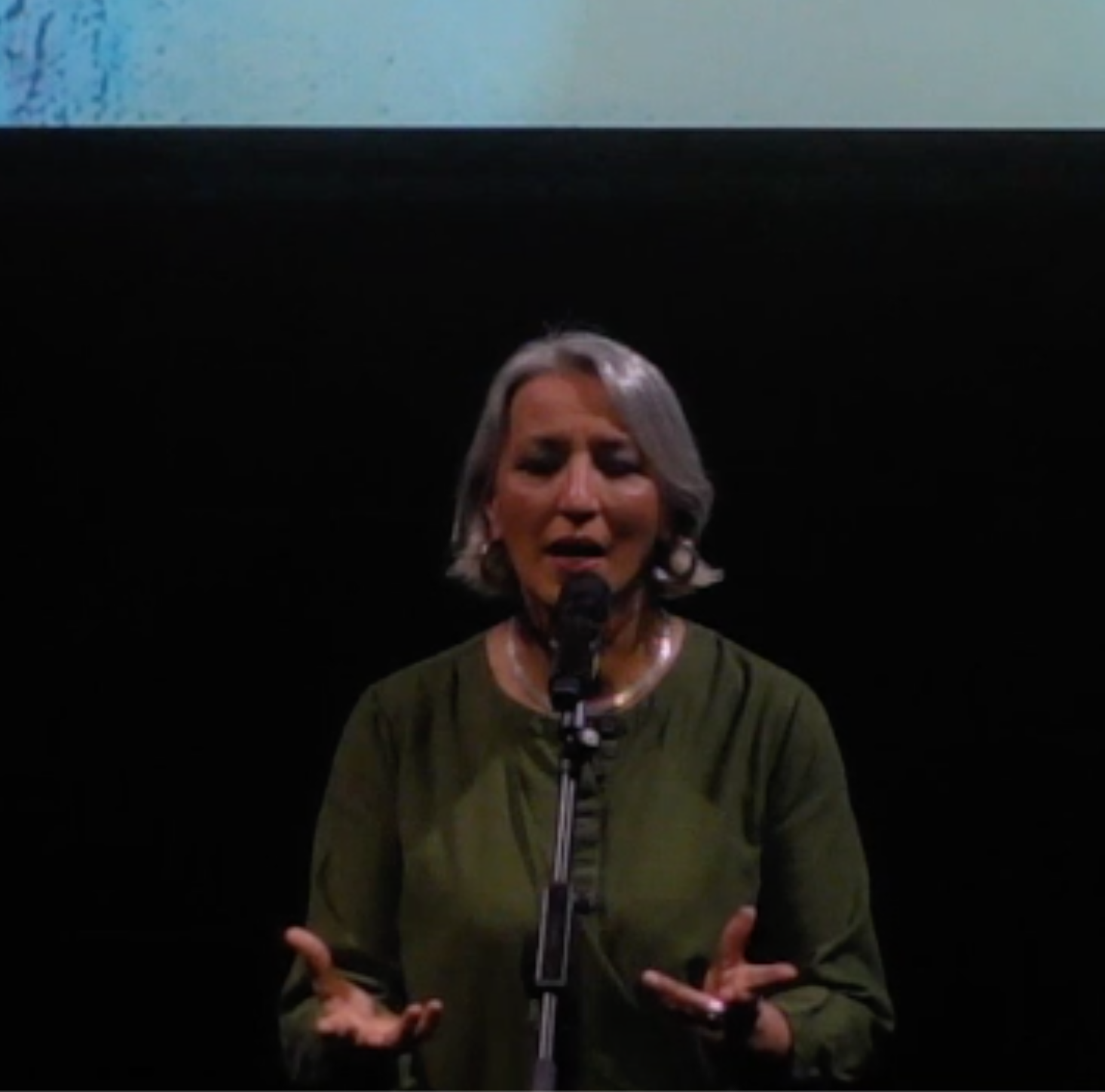 But also the process of writing, the delivery or performance, and the meaning behind the words.
This song came like a gift. 
But not in the way creative things often come, as I said above, when I am waiting and listening. Sometimes things come when I least expect them - when I am washing up, or driving, or otherwise busy…a little snippet will come down and hover just above me. Saying, take me, I am yours.
One day I was driving. And this came, the main line. 
You come like a gift. 
I had been playing with that phrase for months.
One of my habitual thoughts or preoccupations is how at times in deep meditation, or when I see the infinite sea, or look into a newborn baby's eyes or sing deeply, or once when I sat at the feet of my dying friend, I can feel the presence of something…
but what to call it? Who or what is it?
The divine? Something bigger than myself? 
Or perhaps myself at my most wisest, my most healed. The potential of what I may have been, if I hadn't been so damaged by all that life has thrown at me. Like every one of us.
When I am or have been aware of this presence that's when I realise that all the bad things I felt about myself as I grew up in a dysfunctional family, a survivor of domestic violence, a young single parent etc etc etc 
(feel free to add your own experiences here - we all carry the 'thousand sorrows')
- that somehow I was wrong, unlovable, all those negative things that somehow in my very inner being I truly believed…they were wrong.
It is truly powerful, healing and empowering.
I realise this. I was, am loved. I am exactly perfect as I am. 
Who is it? The goddess? Devi?
All my life I have been aware of this presence (when I have the space to listen and look) and I presume that may be what people refer to as 'god'. I have never felt able to be part of any religion though, so for me using that word is problematic. 
But… essence…divine…presence.. atma - which is the Urdu word for soul or presence…
All that.
So this came, the main line. 
You come like a gift. 
Of course I pulled up sharpish, and recorded into my phone Voice Memos. I must have a thousand ideas in there! Not all come out of there.
But this one stuck with me.
A few weeks later I was staring at the sea and the waves, thinking about what I adore about being in water, the feeling of being held and soothed, thinking that it's no accident that many religions use water as a means of cleansing, of rebirth…
when the second phrase
Hold me hold me, fold me into your arms
came into my head
The melody was different, but I realised it was connected to that first phrase.
The rest came in a rush over the following week…in fact so many verses came, but I decided to stick with these three - they feel most real most authentic, most like my own experience of healing myself. the last verse is very much the experience of the immigrant - never feeling like you belong anywhere. 
When the night is darkest
When I am most alone
You come to me 
Like a melody
You come to me in song
You come to me 
Like a memory
You show me that I belong
And it feels good and right to perform this acapella, just a voice, with no instrumentation. 
We are alone, essentially. We each have our own journey to make.
So the delivery too is about the concept, the content.
I have also had a lot of harmonies come to me which I want to add, but in a later recording which I will share with you. It also works well as a round, with a staggered start. 
But for now it is pure and clear and solo.
Do let me know what you think?
What a week!
What a week - this week I finally and definitely FINISHED all the mixing for my new album and sent if off to the amazing sound god Camilo Tirado for final mixing (yes definitely some tidying up!) and MASTERING!
Oh Oh Oh OH!!! What an experience.
I am exhausted beyond measure. 
It's a curious thing. 
It's the equivalent of sending your children out into the world - giving my songs to someone else to to finish up - they come back different, the same but not. It's celebratory and yet disconcerting, an 0h-alt-last-I have-realised-THAT-dream to what-do-I-do-now?
And what's that I hear you shout?
Ah yes.
The tracks sound A M A Z I N G.
Even if I say so myself. It's extraordinary having some ideas in your head for so long and finally getting them out into the world. Such a privilege.
Exhausted I may be but I am unable to sit still as I am so excited. 
I can just about manage to meditate, and it's only then that I do stop, or after I swim - when I sit in a jacuzzi that I can chill…
And it's not true that I have nothing to do!
My to do list is enormous so I had better get on with it -  video for the lead single, printing of artwork fliers. liaising with venues and other artists, PR, marketing, social media posting, sending the new recordings off to radio stations, bloggers, reveiwers workshops….
"Like  A Gift' Live
But not before I share the promised in-progress performance of 'Like  A Gift' from my show at the Norwich Arts Centre for International Women's Day 2022.
This song seemed to really resonate for a lot of you when I performed it - so I do hope you will enjoy it again. Remember the newly MASTERED version will be released along with my album on the 9th June - save the date!
Here it is!
Like A Gift 
You come like a gift
Lifting me clear from the storm
Hold me hold me
Fold me into your arms
When the night is darkest
When I am most alone
You come to me 
Like a melody
You come to me in song
You come to me 
Like a memory
You show me that I belong
ALL RIGHTS RESERVED: Samia Malik
With my love!
Samia X